Wednesday, February 11, 2015 / by June Quilantang
For men:
Guys, it turns out that it really is the thought that counts after all. Yes,flowers, candy and expensive stuff does show that you are thinking about your lady. But the real secret has more to do with how much thought you put into the gift. The more creative you are and the more you give a gift that show how much you've been paying attention is what's key.
Here are a few tips from Bankrate.com (believe it or not) on how to make your girl feel special this year:
Show a special feature: Invite her to your place for a special movie night, complete with popcorn and hot cocoa. Show that you've been thinking of her by buying her favorite romantic movie online (again, it's OK to ask her for movie suggestions without revealing your entire plan).
Say it in your own words: Who needs Shakespeare? Many women, including Fawn Fitter of San Francisco, say a heartfelt card is worth its weight in gold. "Not some verse from Hallmark,just something sweet in his own handwriting. That's all it takes," she says.
Eat in: Consider making a romantic dinner at home for your sweetie instead of going to a pricey restaurant on Valentine's Day. If you've got even a shred of culinary talent, get up early and prepare her favorite -- pancakes with strawberries and whipped cream, perhaps, with hot coffee, a carafe of mimosa and two champagne glasses.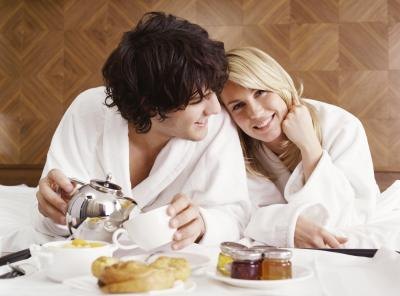 Check here for more cool ideas: http://bit.ly/168dTCY
For women:
Ladies, men DO have other things on their mind when it comes to the gifts they want from you on Valentine's Day. Author Nancy Eshelman from Penn Live did a little research on Facebook and got some surprising – and completely amazing – answers.
From the men who gave her feedback, it seems that many of them "seem to have what they already want" said Eshelman.
Here are some of the responses she received:
· "If we need told on this day you need to be reminded you love each other, then you don't really know or understand what 'True Love' is. Love isn't a one-day wonder.
· "True Love means you'll go the extra mile every day if that's what it takes. So we don't celebrate our relationship, we celebrate what it's produced together ... two kids and lots of happiness. So we do something together as a family."
· "My favorite Valentine's Day gift," he wrote, "is when my dear wife wakes me with a kiss and a happy Valentine's breakfast."
· "A stay cation."
· "Time ... nothing fancy ...time."
· "Real men know this is a ladies holiday. Our reward is in knowing we made our 'special lady' less angry with us for a few hours."
Hopefully that clears it up for you. If you'd like to see the full article, go to:http://bit.ly/1Dts0OG
Enjoy and have a Happy (and meaningful) Valentine's Day.